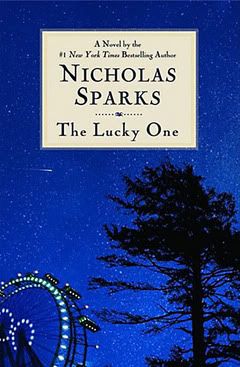 I have long been a Nicholas Sparks fan... after reading "The Guardian," I was hooked. I've had "The Lucky One" sitting around for a while, and never read it. I picked it up a few nights ago after a long reading break, and it was just what I needed to get me back into the reading habit.
A page turner for sure, I spent a couple of nights reading into the 2am hour. Last night, I had just over a third of the book left, and I could not put it down... before I realized it, I was done with the book, and it was 3:30am.
If you've read any of Sparks' books, you know that they are usually set in a coastal NC town and his characters are easy to fall in love with. "The Lucky One" was no different. And in true NS fashion, there were a few tears... All while leaving you with the question "Do you believe in luck?"
Watch for the upcoming movie... I hear its in production now, scheduled for release sometime in 2012.