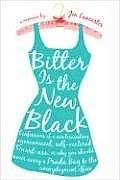 I finished "Bitter is the New Black" in January, but I've been lazy about writing the review for it, partially because I'm having a hard time with how I feel about the book.
I'm not really sure how I found out about
Jen Lancaster
, but when I read her blog and the online reviews of her books, I was compelled to purchase all of them. I had high hopes for "Bitter," but I'm not sure it lived up to my expectations.
This book is the first of a series of Memoirs from Jen. Her writing is sarcastic (which is a turn on) but rather narcissistic at times (which is why I think I didn't LOVE this book). The book deals with her rise and fall in a career and the ups and downs of unemployment.
It took me a long time (about 2 weeks) to get through the whole book, because it was not one of those I couldn't put down. At times, I had to force myself to get through chapters. Overall, I wouldn't say that I hated the book, and I will probably eventually read the others. Next time, I will just go in with lower expectations.