I feel like I'm surrounded by pregnant women! As you know, my sister is pregnant and due in June, but there are also like 5 other people at our church who are due within about 2 months of each other. Then there are other girls outside of church who are pregnant too... I have started calling this the Baby Boom of 2010!
Of course, with pregnancies, there comes baby showers. The first one was Saturday. While shopping for all of the upcoming showers, I have realized something -- I have a problem. I all out when buying gifts, and the presentation of the gift, is just as important as the gift itself. Enter the
diaper cake
. I knew that I was going to be doing at least one for my sister's shower, so I figured, why not scale it down a bit and do it for the others too.
Here is the diaper cake that I did for the first of the showers.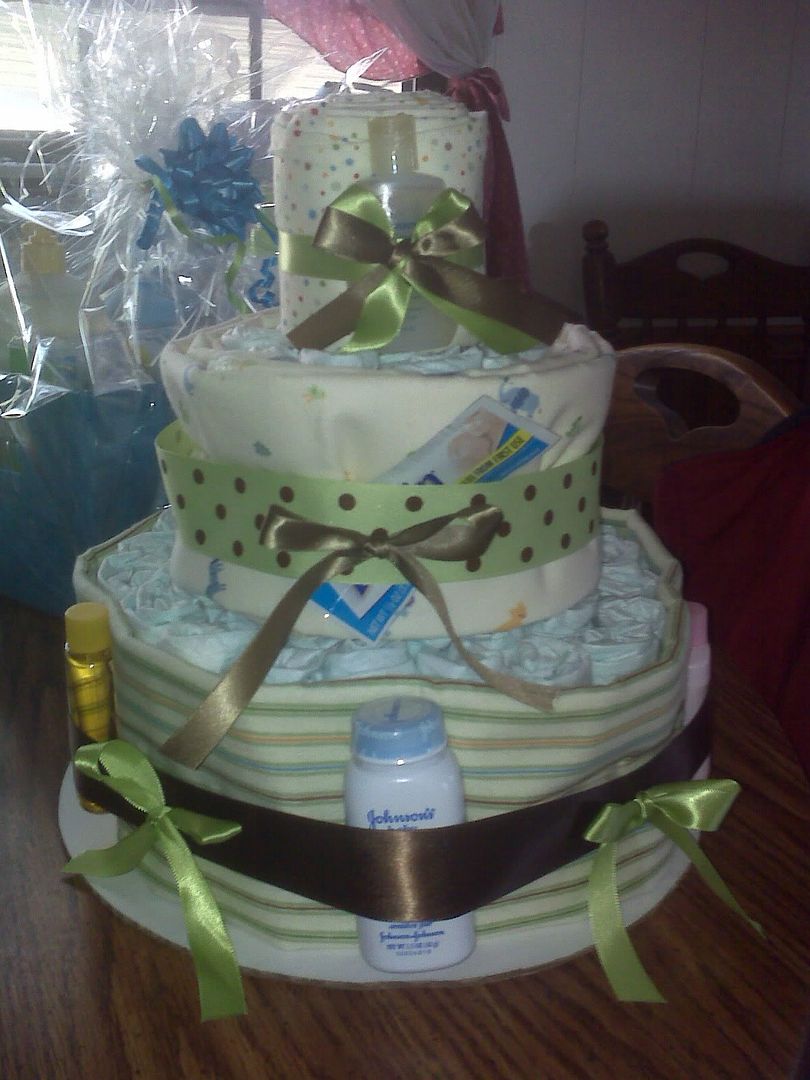 This cake included 59 Pampers. I use size 1 in my cakes, because I figure that a lot of people will be giving Newborn diapers, and this will help them out a little further down the road. Since I have quite a few diaper cakes to make in the next couple of months, I decided that it would probably be more economincal to purchase a larger box. At Babies R Us, a pack of 252 diapers was $41.99. I had a coupon for $5 off, so that brought the prcie to $36.99. It averages out to about 15 cents per diaper.
Total cost for Diapers in this cake = $8.85
I also purchased receiving blankets off of the registry. The pack of 4 worked well because the colors and patterns already coordinated with each other. The cost for 4 receiving was
$14.99.
I also like to put in a few baby care items, like lotion and diaper cream. I purchased a variety pack with 5 different items to place around the layers.
Cost = $2.49
The other items (rubberbands, dowel rod, ribbon) I usually keep for craft projects, so the grand total for the diaper cake was
$28.44 (including tax)
There will be a lot of other baby related posts over the next few months, as there are lots of showers to attend, and even one to host. I have started planning all of the details for my sister's shower and if things come together like they are in my mind right now, it will be awesome!