At the end of January
, I started something new here on the blog... The monthly Rewind. This is where I will summarize the previous month, and the highlights and lowlights of the previous 4 or so weeks. So here is my February
Rewind...
I can't believe that 2 months have already passed in the new year. It seems like this year is passing even more quickly than the last. February started off with me dealing with
a lot of things
, which lead me to make a very hard decision to "re-create" myself. A journey that was very hard to start, and even harder to stay on track with. So far, I'm doing ok with all of it, but it is really a lot harder than a lot of people understand.


On a lighter note, I finally broke down and got a BlackBerry! I am in love with it and I am so addicted. I love being able to get my email instantly, search the web whenever I need to and most importantly, take advantage of a full QWERTY keyboard! I also switched my service to Verizon, and so far so good.



In February, I also decided that its time to start working out again. So far, that has been going ok. Last week was crazy busy, so I didn't make my 3 times, but I'll get there.

Valentine's day came and went almost unnoticed. Stephy's hubby had to work, so we went to eat Mexican. It was yummy. I did get these flowers from my parents.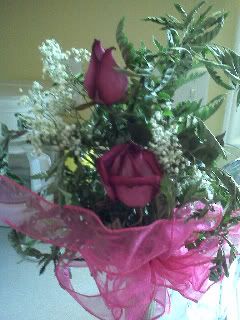 Tupperware was great this month! I had 2 home shows and a catalog party. Sales were a little over $1000. And, I got a recruit! Now, if 2 more people sign up under me, then I will step up to Manager. That will mean more money for me! Tupperware had some great deals, and some of them are continuing into March. Having great promotions and great products, it makes it really easy to do my job!

That's pretty much it for now... this is post 99... so I'm trying to figure out something special for my 100th blog post. Still thinking about that one.